Bookmark/Star/Favorite/Save our calendar!  Our goal is to increase the involvement of families in their children's education. To do this, Michigan Alliance for Families offers learning opportunities across the state.  Click on the event date/location to view the PDF flyer for complete details of each event.
Remember, you can register for Michigan Alliance for Families events online!
Please note:  To be good stewards of our funding resources, we need a minimum number of participants registered by the registration deadline for the presentation to be held. If it is after the deadline and you haven't registered, please call or email to check the status of the event.
August 2018
August 23 in Ithaca Understanding IEPs with Sandee  Koski at Gratiot-Isabella RESD 9AM-12PM. ONLINE REGISTRATION
August 25 in Redford  Understanding IEPs with Kelly Orginski at Methodist Children's Home Society 10AM-1PM. EVENT FULL, REGISTRATION CLOSED
September 2018
September 19 in Peck Community Stakeholder Gathering at Sanilac ISD 1PM-3PM or 6:30PM-8:30PM. ONLINE REGISTRATION
September 20 in Bad Axe Community Stakeholder Gathering at Huron Area Technical Center 1PM-3PM or 6:30PM-8:30PM. ONLINE REGISTRATION
September 22 in Ionia Discipline and the IEP with Sandee Koski and Cheryl Levine at The Right Door for Hope, Recovery, and Wellness 9AM-4PM. ONLINE REGISTRATION
September 25 in Otsego Skills for Effective Parent Advocacy with Kelly Orginski at Otsego District Library 12:30PM-3PM ONLINE REGISTRATION
October 2018
October 16 in Lawrence Let's Talk Transition with Sandee Koski and Lisa Cook Gordon at  Van Buren ISD 9:30AM-3PM. ONLINE REGISTRATION
October 23 in Caro Community Stakeholder Gathering at Tuscola Tehnology  Center  1PM-3PM or 6:30PM-8:30PM. ONLINE REGISTRATION
Don't see a workshop near you?  Check back again soon, we are scheduling additional events! Be sure to view our selection of free On Demand Webinars available for viewing at home www.michiganallianceforfamilies.org/webinar
Weather related cancellations for Michigan Alliance for Families events, will be noted on this page and posted on our FB page: www.facebook.com/MichiganAllianceForFamilies.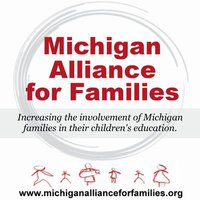 All of our flyers are PDFs, which can be viewed with a free download from Adobe.